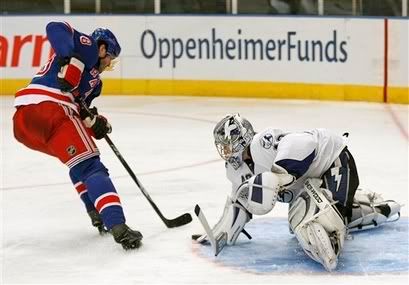 The road woes continued for the Bolts as they left Madison Square Garden with their 4th consecutive road loss of the season. The defeat leaves the Lightning winless on the road so far this season.

The lone Lightning goal came at 6:28 of the second on a Vinny Lecavalier penalty shot. The penalty shot was awarded as Lecavalier was hooked by New York's Marek Malik as Vinny had broken free on his way to the net. That goal sent the Bolts into intermission tied at one goal a piece. It could have been much worse had it not been for the stellar goaltending of Johan Holmqvist and the good graces of the goal posts. Just moments before Vinny's breakaway, Holmqvist stopped a Jaromir Jagr breakaway, and at least 3 shots rang off the posts. Holmer saw 13 shots in the 2nd period alone, and in total stopped 32 of 35 shots.

What eventually cost the Bolts was sloppy play that led to mistakes and penalties. The Rangers scored 2 goals in the third, both on the power play. The Bolts were in the box a total of 7 times, including one penalty for too many men on the ice.

"We were undisciplined," Tortorella said of the third period, "but up until then, we had one player play, our (expletive) goalie. Our goalie gives us a chance after two periods, and we can't put 20 minutes of disciplined hard hockey together, so we're not even (expletive) close tonight, not even close, so we don't deserve anything.

"We spent more time (expletive) looking at referees for (expletive) calls, p------ and moaning about instead of playing, so we don't deserve (expletive-expletive) tonight."

Of note, Dan Boyle saw his first action of the year after surgery to repair wrist tendons that were cut in a freak skate accident. He played sparingly, taking one slapshot that sailed wide of the net.

"Physically, it was just no contest tonight," said Lightning defenseman Dan Boyle, who returned from a freak left wrist injury that kept him out of the first nine games. "They were much hungrier on the puck."

The Lightning will now have to regroup as they prepare to face New Jersey Halloween night in the second game of their three game New York swing.
Sphere: Related Content